Pumpkin-Banana Greek Yogurt Bread
Pump a little extra goodness into your banana bread with #EatYourColors Orange and carob chips.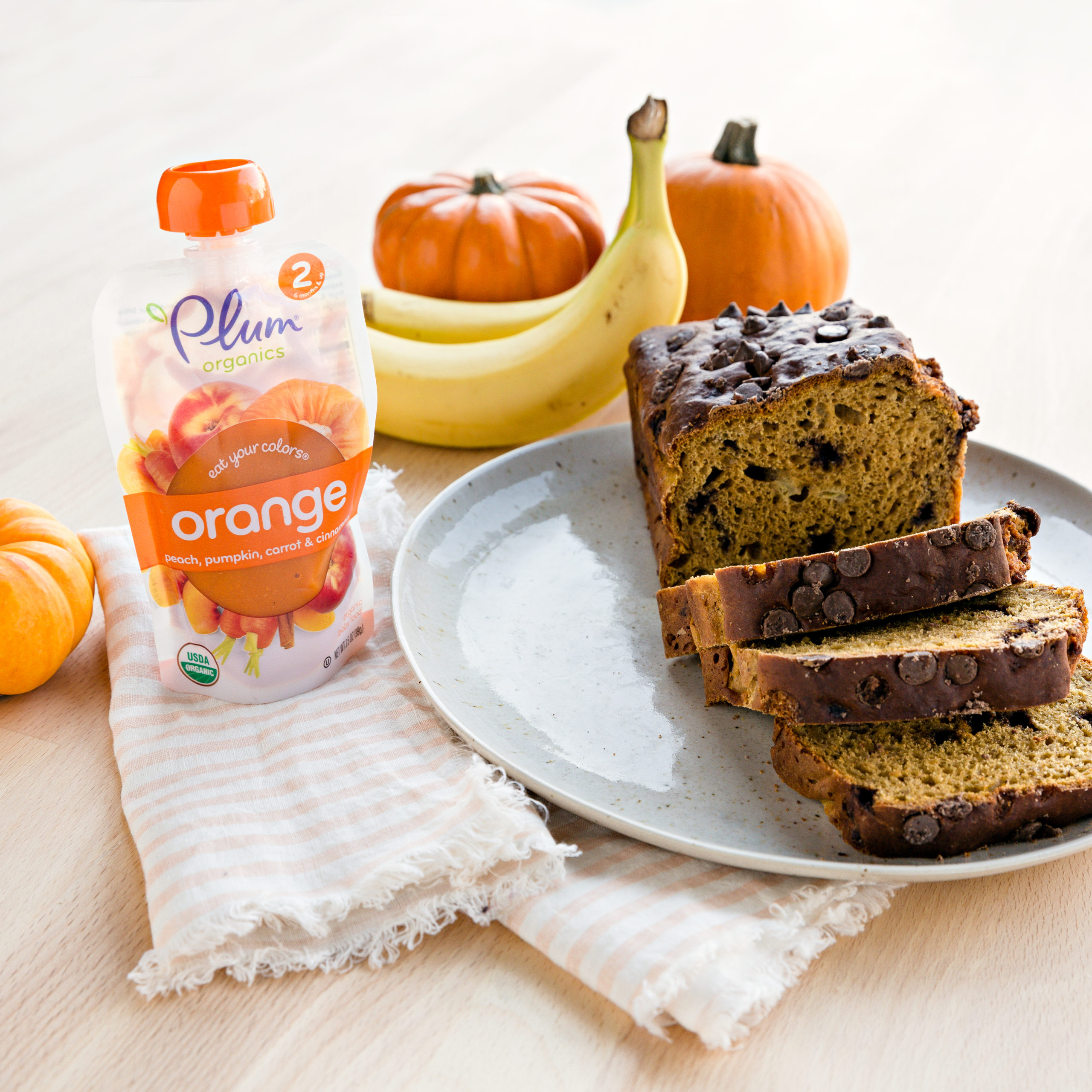 Prep time: 10mins | Cooking time: 60 mins
Ingredients
1½ cups (150 g) all-purpose flour
1 tsp baking powder
1/2 tsp baking soda
1 tsp ground cinnamon
1/2 tsp ground ginger
1/4 tsp ground nutmeg
1/2 tsp sea salt
2 large eggs, lightly beaten
1 medium-size ripe banana, mashed (100 g or 1/2 cup)
1/2 cup (120 g) Eat Your Colors® Orange
1/2 cup (115 g) plain Greek yogurt
1/4 cup (60 ml) maple syrup
1/4 cup (50 g) brown sugar
1 tsp vanilla extract
1/2 cup (45 g) carob chips
Instructions
Preheat your oven to 350ºF (176ºC), and lightly grease a 9 x 5 (23 x 13 cm) bread pan. Set aside.

In a large mixing bowl, combine flour, baking powder, baking soda, spices, and salt. Stir until well combined and set aside.

Lightly beat the eggs in a medium sized mixing bowl. Add mashed bananas, pumpkin, Greek yogurt, maple syrup, brown sugar, and vanilla. Stir until well combined.

Pour the wet ingredients into the dry ingredients and stir gently. Do not over mix. Fold in any add-ins you wish to include.

Pour the batter into the loaf pan, spreading it out evenly, and bake for 60 minutes, or until a toothpick inserted into the centre comes out clean. After 45 minutes, you may wish to cover with a sheet of tin foil to prevent the top from getting too brown.

Remove from oven and let cool for about 10 minutes before transferring to a cooling rack to cool completely.