Quinoa bowl with grilled chicken
Featuring Plum's Second Blends Broccoli Apple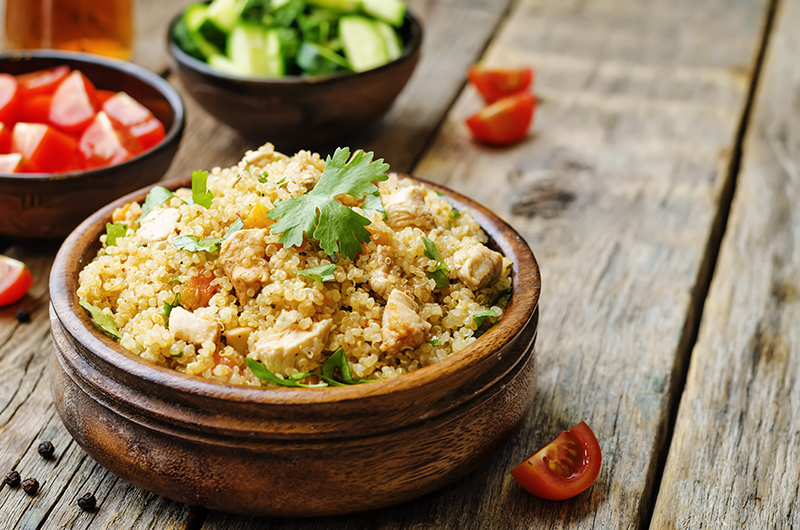 Prep time: 30 mins | Cooking time: 20 mins
Ingredients
1 pouch, Plum Organics Second Blends Broccoli & Apple
2c dried quinoa or brown rice
1lb chicken breast, grilled and diced
8oz carton of sweet cherry tomatoes
1 sweet bulb onion, sliced thin
Garden fresh parsley, chopped
1 garlic clove, diced
4oz goat cheese
1 sweet potato, diced
1/3c olive oil
1T Dijon mustard
1T Champagne vinegar
1/4T salt
Instructions
This Quinoa Bowl with Grilled Chicken is a simple and healthy meal that will make everyone at your table ask for a second bowl. Loaded with fresh produce like sweet potatoes, cherry tomatoes, and summer squash, this is a meal that will provide you and your family with much needed nutrition without sacrificing flavor. The simple apple vinaigrette is a perfect contrast to the grilled chicken. It is subtly sweet with a nice tang from the champagne vinegar. The vinaigrette can be used for much more than this bowl. Try it on mixed greens or use it as a marinade.
Bring quinoa and 4 cups of water to a boil over medium high heat. Once the mixture begins to boil, cover and turn down to the lowest setting. Allow to simmer for 15-20 minutes, or until all the water has evaporated. Allow the quinoa to sit, covered, for an additional 15-20 minutes.

Meanwhile, make apple vinaigrette. Combine one pouch of Plum's Second Blends Broccoli Apple with 1 tablespoon dijon mustard, 1 teaspoon champagne vinegar, and 1/4 teaspoon salt. Whisk 1/3 cup of olive oil into mixture. Set aside.

In a small saucepan, heat 1 tablespoon of olive oil. Add the minced garlic and sweet onion, and cook until soft, about 5 minutes. Add finely diced sweet potato to pan, cover, and cook until tender, about 7 minutes.

In a large mixing bowl, stir together the cooked chicken, the onion-sweet potato mixture, and the sweet cherry tomatoes. Sprinkle the goat cheese on top. Add the quinoa or brown rice and garden fresh parsley. Cover with a generous 1/3 cup of vinaigrette. Stir to combine. Serves 4.
Monet Moutrie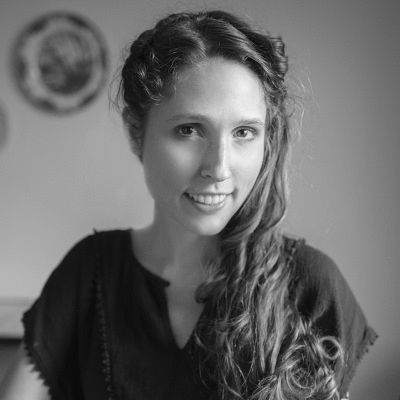 Monet lives in Austin, Texas with her sweet family (including her cat, Cricket and pup, Margot). Her blog, Anecdotes and Apple Cores, focuses on simple baked goods that bring friends and families together. A fresh loaf of bread can cure most ills. Monet spends time creating recipes that focus on fresh, seasonal ingredients that make adults and children eager to sit down at the table.